These Inflatable Are For Sale Only
Double Lane Slide 25ft FOR SALE ONLY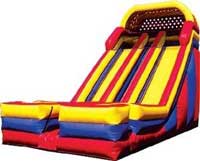 These inflatables are no longer of the quality that we will allow to be rented to our clients. Due to either excess wear, or damage. Some items listed on this page are damaged and require new stitching in areas, or replacement vinyl. There are many companies that specialize in Inflatable Repairs, however on a budget you could have most common repairs performed by a capable upholstery professional, or do it yourself.
The slide has two rips at the landing of the slide both about 3.5 feet long. These could be repaired with some high strength stitching on a good machine. Both rips are located where the stop wall meets the floor. Or you could have this unit converted to have a longer landing. This slide is HUGE. Handling it will take at least two people. Even with the damage this unit can be inflated and inspected easily, it just is no longer firm due to the gaping tears. $250 OBO (no blowers included)
Once the repairs have been made and the seams sealed up properly, the slide needs only a 2-hp blower. These can be found on the internet easily. I can supply you with blowers for an additional charge.
THESE UNITS ARE NO LONGER FOR RENT, PLEASE DO NOT ASK US TO BRING THESE UNITS TO YOUR RENTAL PARTY IN KANSAS CITY. THESE ARE NO LONGER IN GOOD REPAIR AND SHOULD BE REPAIRED PRIOR TO USE. WE MAKE NO CLAIMS TO WARRANTY, THE PURCHASE OF THESE ITEMS ARE ON AN "AS-IS-WHERE-IS" BASIS, NO RETURNS, NO REFUNDS, NO EXCHANGES, ALL SALES FINAL. NO WARRANTY EXPRESSED. IF YOU WOULD LIKE TO SEE THEM INFLATED BEFORE PURCHASE, IT IS UP TO YOU TO BRING A HELPER TO ASSIST WITH SETUP AND TAKE DOWN OF THE UNIT, WE WILL ASSIST WITH THIS AS WELL, MUST HAVE CASH IN HAND TO SEE THEM SETUP.